| | |
| --- | --- |
| | Osage County, Missouri |
(last updated 06/25/01.)
Other's Finds (kinda unusual)
Welcome to Osage County Arrowheads. All of the artifacts you see on this site are personal finds in Osage and surrounding counties. Almost all have been found on farms within a couple miles of our house. Being new to the hobby, it didn't take us long to realize we didn't know much about the artifacts we were picking up. Through this web site and our own homework we have learned much. To all those who have contributed their knowledge and advice, we offer our thanks.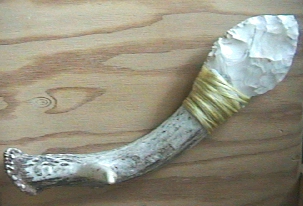 The term "arrowhead" is loosely used by all collectors. There are actually few arrowheads on this website with the exception of the bird points. Most of these artifacts were knives and spear points. A good knife and scraper were as much or more in demand than were projectile points.
As you browse through our collection, you will notice that I have taken a stab at identifying most of our stuff. We are always open to your ideas and opinions. If you have info about the things you see here, please send me a note

. Enjoy!


You are visitor number: